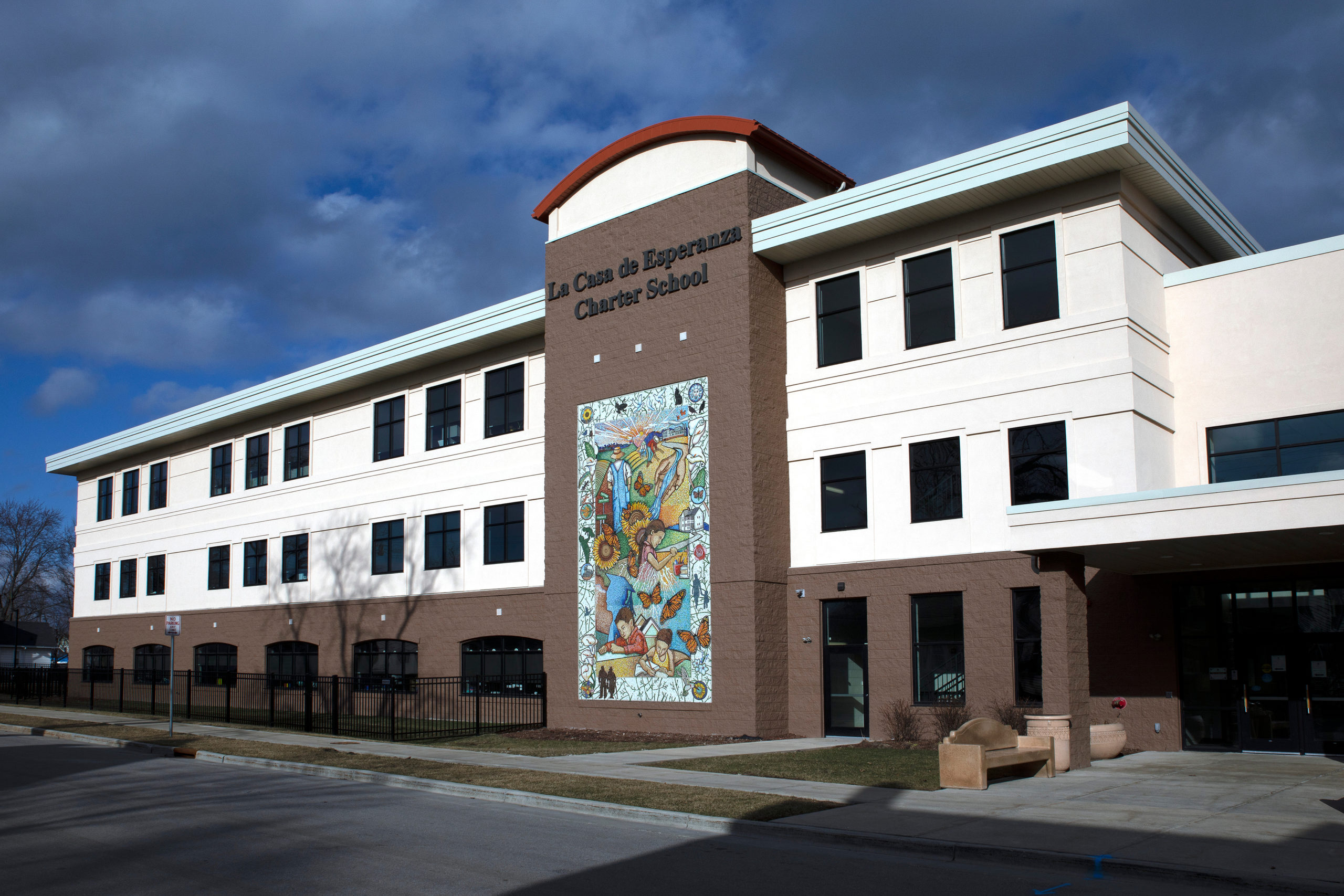 La Casa de Esperanza Charter School
2019, La Casa de Esperanza Charter School, Waukesha, WI, USA
Ann Wydeven
Milwaukee, WI, USA
25 x 15 feet
glass tile
Founded in 2015, La Casa De Esperanza, which stands for 'The House of Hope,' is a full-service charter school located in Waukesha with a mission to provide opportunities for children to achieve full social and economic participation in society, with emphasis on the Hispanic population. The finished La Casa de Esperanza mural perfectly accomplished the school's vision of paying respect to the decades of Latino influence throughout Waukesha's history, and their honorary contributions that paved the way for future successes. The most important part of the mural was to pay homage to the Latino tradition and accurately depict the history of La Casa de Esperanza, since it serves as a primary school, an employer, a daycare, a food pantry and so much more for the community.
Mural painting is culturally prominent in Waukesha, and it was to be part of that tradition. The mosaic visually begins with the Mexican migration to Waukesha, WI. Monarchs fly in a zig zag pattern over the landscape and figures as a cultural symbol for their relocation to America. At top, the immigrants are shown working in factories and in agriculture. There is a small home that acted as the original school on the far right side leading a path downward to open hands. Water from those hands, modeled by one of the students, flows over the central image. It is a reference to the natural mineral springs that famed Waukesha as the Saratoga of the West in the 1800s.
The mural is devoted to education, both primary and higher education. One child writes, a portrait of a community member, Another student in silhouette, wears a graduation cap. A third child paints, metaphorically sending out roots, planting generations into the fabric of the city. The muse for this child is another student from generations of family members who continue to be the life's blood of the school. The border imagery is filled with generations in silhouette depicting family, elders and stages of growth on a backdrop both vine-like and reminiscent of papel picado. This decorative paper cutting folk art was one process that the students engaged in, prior to assisting with the mosaic inserts. The mandalas describe specific symbols of heritage and place. The doves, honor the 3 founders of the organization. It is an homage to history, identity, responsibility and purpose for the betterment of, and service to the immigrant population of the city.