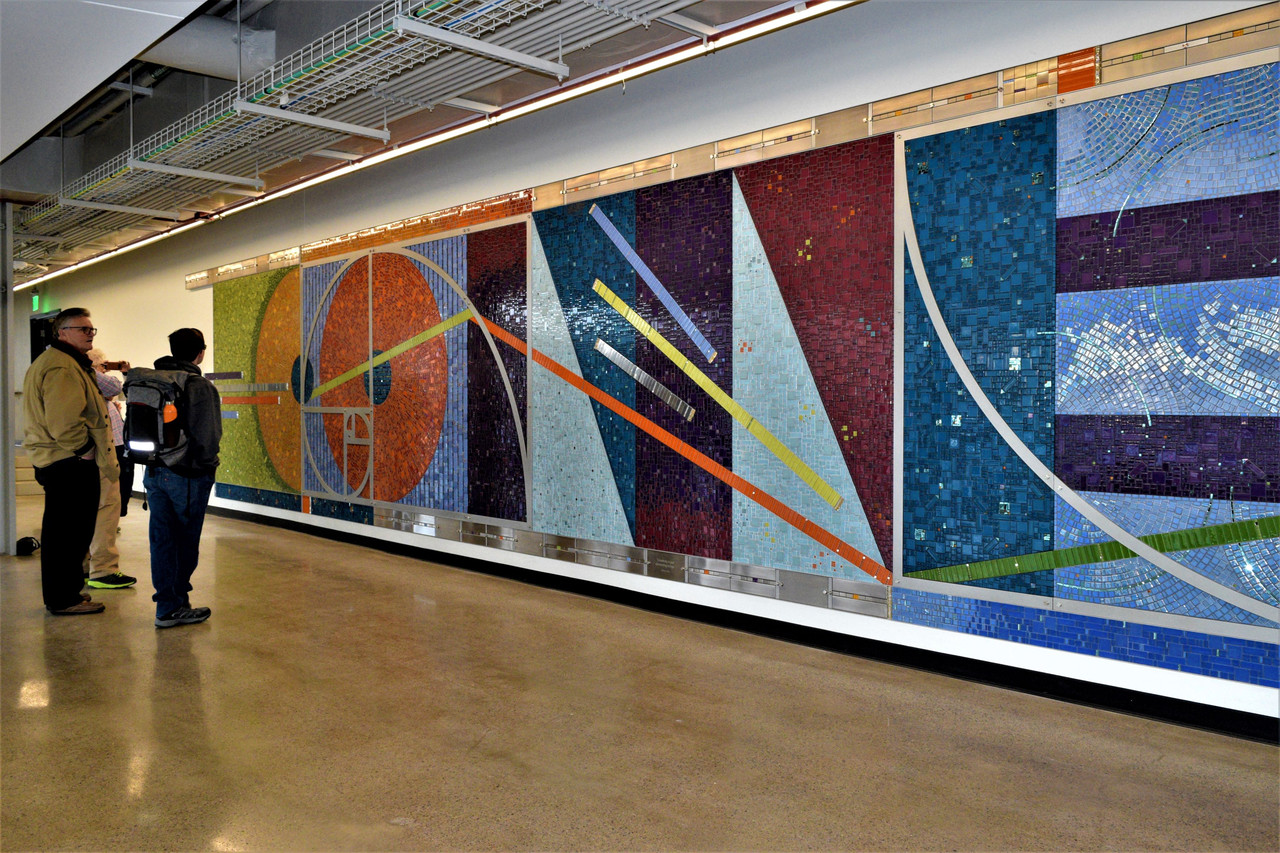 CONNECT
2020, Cleveland State University, Washkewicz College of Engineering, Cleveland, OH, USA
Bonnie Cohen
Akron, OH, USA
55' x 8' x 4″
glass mosaic, recycled glass, porcelain tile, stainless steel, Cleveland carbon steel, mirror, and smalti
C O N N E C T Funded through Ohio Percent for Art Program Owner – Cleveland State University Engineers connect people, concepts, materials, energy, formulas, patterns, and systems. Of the millions of diverse and unique connections, the profoundly simple goal of an engineer is to improve human life. Shooting across the mural in dynamic patterns, vectors of glass and steel steer the students and faculty from the entry doors down the corridor. Steel borders and linear accents merge and veer off into different directions like train rails and anticipate future transportation and energy discoveries.
The artwork draws an earthbound map: Cleveland State's GPS coordinates anchor the university itself in place. Water imagery flowing through the letter "E" evokes the natural wonder of Lake Erie. Cleveland steel evokes the city as a steel town, and as a modern industrial, corporate, and technological powerhouse. The seven monumental letters were designed using the Golden Rectangle, a mathematical formula based on a set of numbers known as the Fibonacci Sequence.
Eight hundred years after its discovery, the Golden Rectangle is still inspiring artists and engineers to connect science, technology and nature to achieve balance and beauty. Contemplate the words of wisdom from artists and scientists etched in steel tiles. Take in the scope of over 80,000 individual pieces that create the letters. The 60 colors scattered across the 55 ft. wall in precise and random patterns use the Fibonacci numbers as a design template. The two large Fibonacci spirals were created from Cleveland carbon steel and the smaller stainless steel tiles used in the top and bottom borders are American made. Steve Jobs said, "Creativity is just connecting things." That's exactly what happens here. This artwork connects to viewers, and connects viewers to each other, one person and one idea at a time.