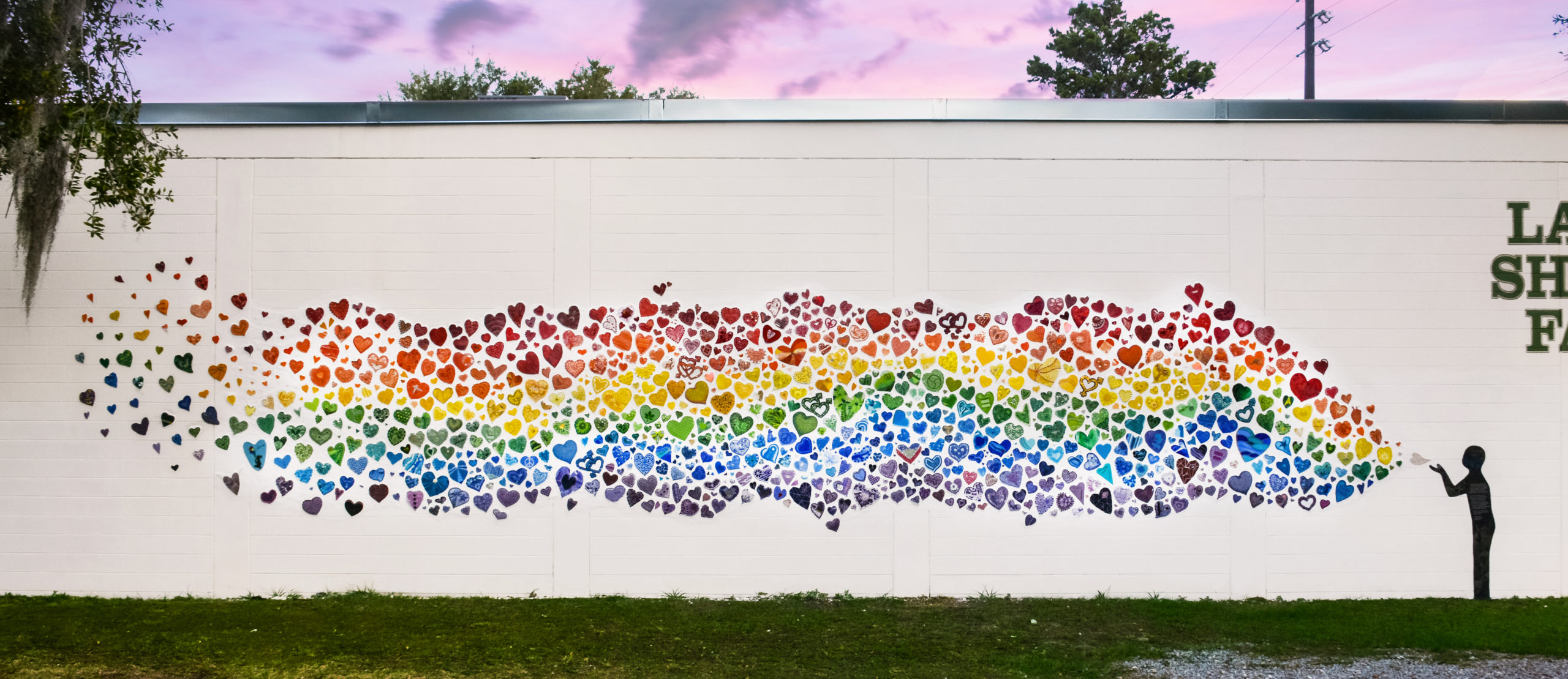 Diversity Mural in Orlando
2018, 1336 N. Mills Avenue, Orlando, FL, USA
Cherie Bosela and Jennifer Kuhns
Orlando, FL, USA and Elma, WA, USA
12.5 x 53 feet
stained glass, ceramic tile, smalti, dishes, vitreous tile, pottery, fused glass, millefiori, metal adornments, ball chain, mirror and sculpted ceramic hearts
In 2018, Cherie Bosela and Jennifer Kuhns launched a global community mural project in response to the Pulse Nightclub shooting in Orlando, FL. Our goal was to send a message of solidarity and support to those who have become targets of hate and bigotry. To give a voice to others who feel the same, we invited mosaic artists to create hearts to be placed in the form of a rainbow floating away from a figure blowing kisses. The figure serves as a "selfie-spot", allowing visitors to join in sharing the message of love and support of diversity.
Cherie organized the creation of this mural which is a collaborative companion piece to a similar mural created by Jennifer in Shelton, WA. 300+ artists have created hearts for this project. She received over 1000 hearts from all over the world – 29 States and 10 Countries. The mural was made possible by volunteers and donations. Laticrete donated the thinset, grout and custom tints for this project. Jennifer was able to travel to Orlando for the dedication on September 21, to spend time with Cherie visiting important landmarks related to the Pulse shooting, and to connect with many of the volunteers. Text on silhouetted figure: More than 1000 hearts have been created for this mural from people all over the world! It stands as a message of hope and support for the LGBTQIA community and anyone who feels marginalized or lives in fear of hate and violence simply because of who they are.
Orlando artist and owner of Luna Mosaic Arts, Cherie Bosela, organized the creation of this mural which is a collaborative companion piece to a Pulse tribute mural created by Washington state artist Jennifer Kuhns. They wanted to create an opportunity for others who want to share the message by creating a heart, volunteering or providing financial support. Cherie Bosela: final design and installation – created multiple hearts Jennifer Kuhns: idea and design – created multiple hearts 300+ artists from around the world: sent mosaics on mesh 50+ volunteers: helped grout and install hearts.
Diversity Mural of mosaic hearts dedicated in Orlando