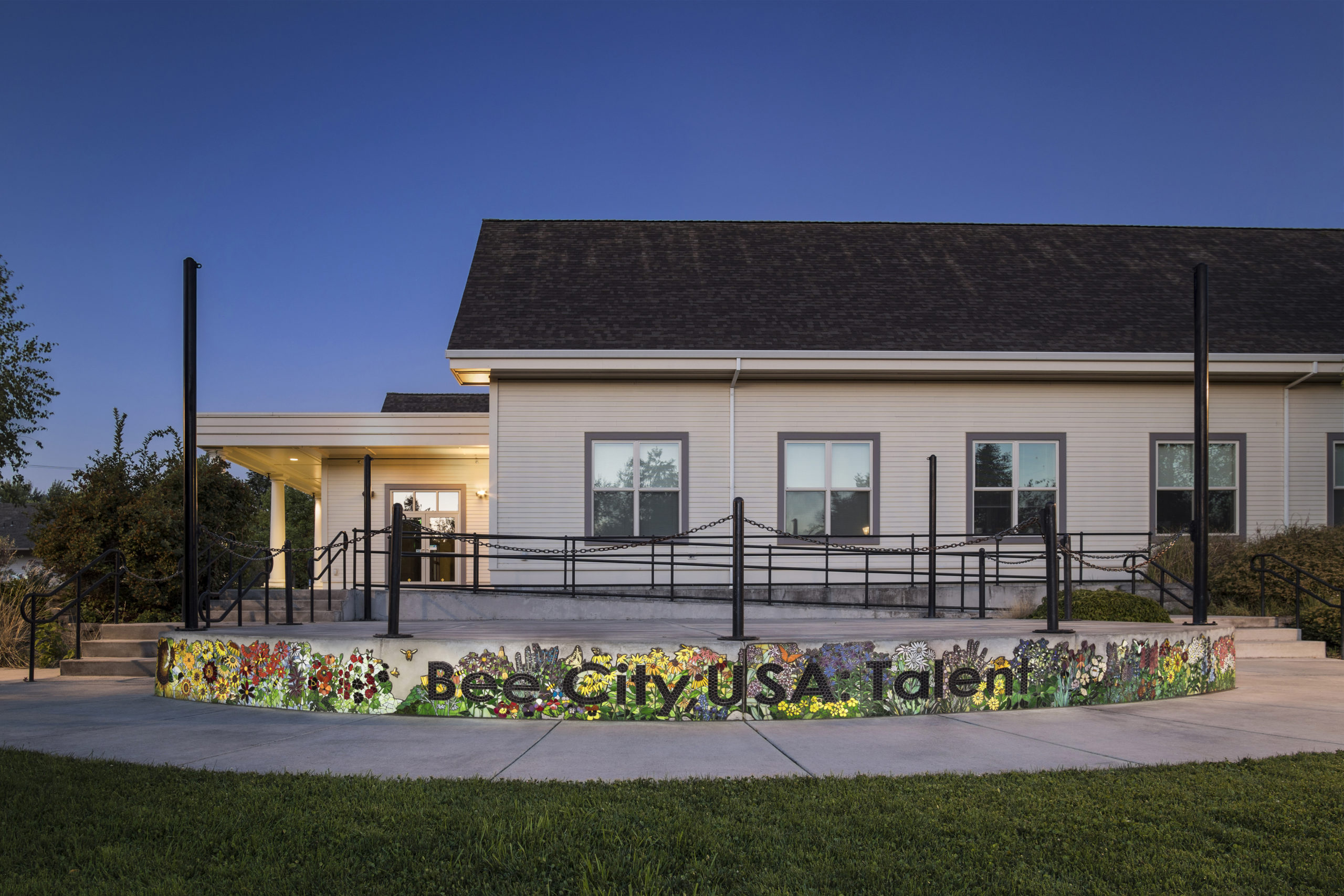 Bee City USA: Talent Community Created Mural
2019, Talent City Hall, Talent, OR, USA
Karen Rycheck
Portland, OR, USA
19 inches x 32 feet x 0.25 inch
stained glass, handmade ceramic tile and elements
The artist's town became the second Bee City USA in the country in 2014. It's a title conferred by a national non-profit organization working to protect honeybees and other pollinators that are vitally important for our world ecology. The artist wanted to recognize this honor and keep it in the forefront of people's minds through a community art project. She proposed a mosaic mural to the City Council in the Fall of 2017 emphasizing how the project supports the goal of bringing awareness to the threats facing pollinators while educating and involving the community.
After receiving a seed grant from a local philanthropic art group and getting approval from the City Council the artist began holding work sessions in her studio in 2018. The design evolved based on what type of flowers participants chose to make. Folks of all ages were educated about native flowers and bees and offered imagery to use as guides to create them. Once enough blooms were created on mesh, they were arranged by the artist into a design, and foliage that matched the blooms were added in subsequent workshops. Many folks came to workshops repeatedly as new friendships were made in our small rural community.
In total over 100 participants made this gorgeous mosaic a reality. Designed and facilitated by the artist, the mural features naturalistic clusters of flowers, foliage, pollinators and bees made of stained glass and handmade ceramic elements. It is permanently installed on a low curved stage-front, just outside City Hall where it can be seen by the public visiting the adjacent local library, and during the several cultural festivals during which the stage is used for music and dance performances. Overall, this successful project could not have happened without the amazing help of the community.